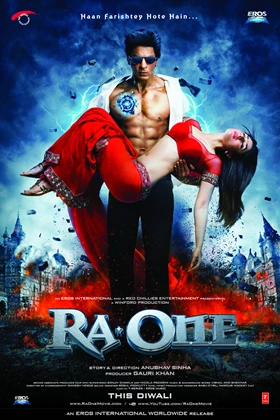 Ra.One English Subtitles
Ra.One is a movie starring Shah Rukh Khan, Arjun Rampal, and Kareena Kapoor. When the titular antagonist of an action game takes on physical form, it's only the game's less powerful protagonist who can save his creator's family.
Subtitles preview
00:02:28,032 --> 00:05:30,156
Synchronization by Majid
[email protected]
1
00:02:28,032 --> 00:02:30,156
Varel industries always trying...
2
00:02:30,544 --> 00:02:34,933
that it should take the video games
world beyond than 3-d technology.
3
00:02:35,555 --> 00:02:40,973
Did you ever think when you send
some data from one phone to another,
4
00:02:41,196 --> 00:02:44,588
Subtitles infomation
| | |
| --- | --- |
| Framerate | 25.000 |
| Language | English |
| Created By | majid2009s |
| Author Note | RA.One - DVDScr(by majid) |
| Created | 10/30/2011 06:35:00 AM |
| Updated | one year ago |
Raw Subtitles
00:02:28,032 --> 00:05:30,156<br>Synchronization by Majid<br>[email protected]<br>1<br>00:02:28,032 --> 00:02:30,156<br>Varel industries always trying...<br><br>2<br>00:02:30,544 --> 00:02:34,933<br>that it should take the video games<br>world beyond than 3-d technology.<br><br>3<br>00:02:35,555 --> 00:02:40,973<br>Did you ever think when you send<br>some data from one phone to another,<br><br>4<br>00:02:41,196 --> 00:02:44,588<br>
More Ra.One English Subtitles