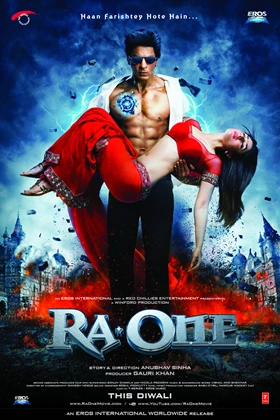 Ra.One Indonesian Subtitles
Ra.One is a movie starring Shah Rukh Khan, Arjun Rampal, and Kareena Kapoor. When the titular antagonist of an action game takes on physical form, it's only the game's less powerful protagonist who can save his creator's family.
Subtitles preview
1
00:02:17,375 --> 00:02:21,042
Ra-ONE
( Random Access-Version I )

2
00:02:37,458 --> 00:02:44,250
Barron Industri selalu berupaya meningkatkan dunia
digital atau permainan video melebihi teknologi 3D.

3
00:02:45,083 --> 00:02:50,708
Pernahkah anda terpikir ketika mengirim
sejumlah data dari satu ponsel ke ponsel lain?

4
00:02:50,750 --> 00:02:53,875
Bagaimana data tersebut bisa mencapai penjuru dunia?

Subtitles infomation
| | |
| --- | --- |
| Framerate | 24.000 |
| Language | Indonesian |
| Created By | Chietiez |
| Author Note | |
| Created | 01/30/2012 03:51:00 AM |
| Updated | one year ago |
Raw Subtitles
1<br>00:02:17,375 --> 00:02:21,042<br>Ra-ONE<br>( Random Access-Version I )<br><br>2<br>00:02:37,458 --> 00:02:44,250<br>Barron Industri selalu berupaya meningkatkan dunia<br>digital atau permainan video melebihi teknologi 3D.<br><br>3<br>00:02:45,083 --> 00:02:50,708<br>Pernahkah anda terpikir ketika mengirim<br>sejumlah data dari satu ponsel ke ponsel lain?<br><br>4<br>00:02:50,750 --> 00:02:53,875<br>Bagaimana data tersebut bisa mencapai penjuru dunia?<br>
More Ra.One Indonesian Subtitles
| Language | Release name | Release note | Last Updated | Quick download |
| --- | --- | --- | --- | --- |
| Indonesian | | Manual Translated.. Please Rate and comment kalo cucookkk ;) | one year ago | |
| Indonesian | | Resync from lOewi, kali ini benar2 fix buat 900mb | one year ago | |
| Indonesian | | Please vote prend | one year ago | |
| Indonesian | | Hanya google translate | one year ago | |
| Indonesian | | Improvisasi dari subtitle Chietiez. Perbaikan tanda baca "/" dan pemberian warna setiap tipe teks(musik,pembicaraan biasa,robot) agar lebih menarik, serta perbaikan kata-kata yang mungkin salah(kurang tepat). Bila berkenan mohon rate subtitle ini ya.. Terimakasih buat penerjemah Chietiez.. | one year ago | |
| Indonesian | | | one year ago | |
| Indonesian | | mohon maaf kalo jauh dr sempurna,ane translate dari sub yg bahasa inggris dari nuwab | one year ago | |
| Indonesian | | | one year ago | |
| Indonesian | | | one year ago | |
| Indonesian | | perbaikan timenya udah pas bangeeeet... | one year ago | |
| Indonesian | | Udah ane slesain mpe akhir.. Silahkan dicoba.. | one year ago | |
| Indonesian | | Sync for Ra.One (2011) BRRip 1.1GB | one year ago | |
| Indonesian | | mantap gan | one year ago | |
| Indonesian | | film karo tulisanne pas banget | one year ago | |
| Indonesian | | just resync dan berbagi | one year ago | |
| Indonesian | | Resync dari lOewi untuk Bluray 720 ganool | one year ago | |
| Indonesian | | Buat durasi 02:35:50 Semoga bermanfaat, sudah ditambahkan lirik | one year ago | |
| Indonesian | | please correctly again ^_^ and vote my sub please(083873692964) | one year ago | |
| Indonesian | | resync from [email protected] Timing pas bro | one year ago | |