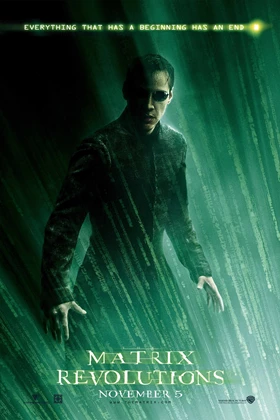 The Matrix Revolutions Brazillian Portuguese Subtitles
The Matrix Revolutions is a movie starring Keanu Reeves, Laurence Fishburne, and Carrie-Anne Moss. The human city of Zion defends itself against the massive invasion of the machines as Neo fights to end the war at another front...
Subtitles preview
1
00:01:18,500 --> 00:01:21,800
Não achei nada, senhor. Nenhum
sinal de Niobe ou Ghost.

2
00:01:22,000 --> 00:01:25,600
- Nada além de pílulas azuis.
- Devemos nos conectar e tentar contactá-los?

3
00:01:25,800 --> 00:01:27,600
Não adianta, estão
sem comunicação.

4
00:01:27,800 --> 00:01:30,900
- Talvez seja hora de voltarmos.

Subtitles infomation
| | |
| --- | --- |
| Framerate | ... |
| Language | Brazillian Portuguese |
| Created By | Ivandrofly |
| Author Note | Sync, e corregida por Ivandrofly |
| Created | 01/25/2013 06:04:00 PM |
| Updated | one year ago |
Raw Subtitles
1<br>00:01:18,500 --> 00:01:21,800<br>Não achei nada, senhor. Nenhum<br>sinal de Niobe ou Ghost.<br><br>2<br>00:01:22,000 --> 00:01:25,600<br>- Nada além de pílulas azuis.<br>- Devemos nos conectar e tentar contactá-los?<br><br>3<br>00:01:25,800 --> 00:01:27,600<br>Não adianta, estão<br>sem comunicação.<br><br>4<br>00:01:27,800 --> 00:01:30,900<br>- Talvez seja hora de voltarmos.<br>
More The Matrix Revolutions Brazillian Portuguese Subtitles
| Language | Release name | Release note | Last Updated | Quick download |
| --- | --- | --- | --- | --- |
| Brazillian Portuguese | | | one year ago | |
| Brazillian Portuguese | | Sync, e corregida por Ivandrofly | one year ago | |
| Brazillian Portuguese | | Sync, e corregida por Ivandrofly | one year ago | |
| Brazillian Portuguese | | Sync, e corregida por Ivandrofly | one year ago | |
| Brazillian Portuguese | | Sync, e corregida por Ivandrofly | one year ago | |
| Brazillian Portuguese | | Sync, e corregida por Ivandrofly | one year ago | |
| Brazillian Portuguese | | Sync, e corregida por Ivandrofly | one year ago | |
| Brazillian Portuguese | | Sync, e corregida por Ivandrofly | one year ago | |
| Brazillian Portuguese | | Sync, e corregida por Ivandrofly | one year ago | |
| Brazillian Portuguese | | Sync, e corregida por Ivandrofly | one year ago | |
| Brazillian Portuguese | | Sync, e corregida por Ivandrofly | one year ago | |
| Brazillian Portuguese | | Sync, e corregida por Ivandrofly | one year ago | |