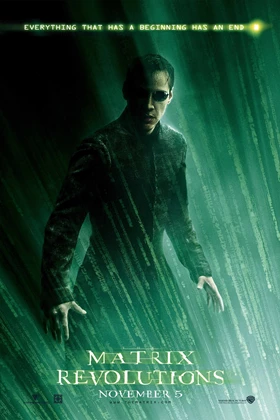 The Matrix Revolutions Vietnamese Subtitles
The Matrix Revolutions is a movie starring Keanu Reeves, Laurence Fishburne, and Carrie-Anne Moss. The human city of Zion defends itself against the massive invasion of the machines as Neo fights to end the war at another front...
Subtitles preview
1
00:01:19,071 --> 00:01:22,606
Chẳng có gì thưa sếp,
không có dấu hiệu của Niobe hoặc Ghost.

2
00:01:22,783 --> 00:01:24,326
Chẳng có gì ngoài
những người trong hệ thống.

3
00:01:24,493 --> 00:01:26,153
Chúng ta có nên cố gắng
liên lạc với họ không?

4
00:01:26,329 --> 00:01:28,286
Không cần đâu.

Subtitles infomation
| | |
| --- | --- |
| Framerate | ... |
| Language | Vietnamese |
| Created By | julesverne78 |
| Author Note | Dịch lại |
| Created | 02/12/2012 03:29:00 AM |
| Updated | 2 years ago |
Raw Subtitles
1<br>00:01:19,071 --> 00:01:22,606<br>Chẳng có gì thưa sếp,<br>không có dấu hiệu của Niobe hoặc Ghost.<br><br>2<br>00:01:22,783 --> 00:01:24,326<br>Chẳng có gì ngoài<br>những người trong hệ thống.<br><br>3<br>00:01:24,493 --> 00:01:26,153<br>Chúng ta có nên cố gắng<br>liên lạc với họ không?<br><br>4<br>00:01:26,329 --> 00:01:28,286<br>Không cần đâu.<br>
More The Matrix Revolutions Vietnamese Subtitles