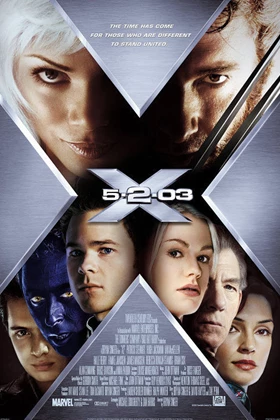 X-Men 2 English Subtitles
X2 is a movie starring Patrick Stewart, Hugh Jackman, and Halle Berry. When anti-mutant Colonel William Stryker kidnaps Professor X and attacks his school, the X-Men must ally with their archenemy Magneto to stop him.
Subtitles preview
1
00:00:41,333 --> 00:00:44,585
Mutants. Since the discovery
of their existence,

2
00:00:44,753 --> 00:00:49,882
they have been regarded
with fear, suspicion, often hatred.

3
00:00:50,050 --> 00:00:52,218
Across the planet debate rages.

4
00:00:52,386 --> 00:00:55,722
Are mutants the next link
in the evolutionary chain?


Subtitles infomation
| | |
| --- | --- |
| Framerate | 23.976 |
| Language | English |
| Created By | Ghostkeeper |
| Author Note | Improved from Adyjob's sub. Added all missing text as far as I could hear it, as well as foreign text. Added italics. Minor resyncing and fixing of common errors. |
| Created | 05/10/2015 09:40:00 PM |
| Updated | 3 years ago |
Raw Subtitles
1<br>00:00:41,333 --> 00:00:44,585<br><i>Mutants. Since the discovery<br>of their existence,</i><br><br>2<br>00:00:44,753 --> 00:00:49,882<br><i>they have been regarded<br>with fear, suspicion, often hatred.</i><br><br>3<br>00:00:50,050 --> 00:00:52,218<br><i>Across the planet debate rages.</i><br><br>4<br>00:00:52,386 --> 00:00:55,722<br><i>Are mutants the next link<br>in the evolutionary chain?</i><br><br>
More X-Men 2 English Subtitles
| Language | Release name | Release note | Last Updated | Quick download |
| --- | --- | --- | --- | --- |
| English | | ❤️❤ April 2020 > improved subtitle to make it matching well with the dialogue. Interjections and Hearing Impaired removed. Spell checked. Added Missing Words. Narration Colorized. | 3 years ago | |
| English | | | 3 years ago | |
| English | | X2.X-Men.United.PROPER.DVDRip.XViD-DVL | 3 years ago | |
| English | | | 3 years ago | |
| English | | | 3 years ago | |
| English | | | 3 years ago | |
| English | | 1CD BugZ or other PAL Versions, Timing fixed for second half! | 3 years ago | |
| English | | Please Vote and Comment ! | 3 years ago | |
| English | | | 3 years ago | |
| English | | X2.2003.720p.BluRay.x264-BestHD | 3 years ago | |
| English | | X2.2003.720p.BluRay.x264-BestHD | 3 years ago | |
| English | | Fixed timing | 3 years ago | |
| English | | Full Synchronized Hardcoded Subs, Give your comments | 3 years ago | |
| English | | Time synced and delay corrected | 3 years ago | |
| English | | no rar | 3 years ago | |
| English | | | 3 years ago | |
| English | | | 3 years ago | |
| English | | Just resync for BRRIp 1.5GB | 3 years ago | |
| English | | Custom-Built Subs - All "Hearing Impaired" Content removed. MS Office 2007 Grammar & Spell-Check Corrections. Clarification of Dialogue Ambiguities. Will also fit 720p/1080p Blu-ray 'Professional' Release Group Rips. Fully UTF-8 compliant. These Subs are free of Spam and any Authoring Notations. | 3 years ago | |
| English | | | 3 years ago | |
| English | | | 3 years ago | |
| English | | perfect | 3 years ago | |
| English | | Edit: 1388-03-09 | 3 years ago | |
| English | | sync perfectly | 3 years ago | |
| English | | Adjusted for the viewing on PC Version platforms and 'Sony DVP NS708HP'. | 3 years ago | |
| English | | Omeg@king dual audio english version | 3 years ago | |
| English | | remove hearing impaired for YIFY | 3 years ago | |
| English | | | 3 years ago | |
| English | | | 3 years ago | |
| English | | | 3 years ago | |
| English | | resync ganool bestHD | 3 years ago | |
| English | | perfectly synced | 3 years ago | |
| English | | | 3 years ago | |
| English | | | 3 years ago | |
| English | | | 3 years ago | |
| English | | X.2.2003.1080p.BrRip.x264-YIFY | 3 years ago | |
| English | | Fix common errors, Spell check, Multi-Replace w/custom Regex (~20) for OCR errors, Deep Regex inspection (20 finely tuned Regex hand checked), Check lines < 25 chars by hand, Non-SDH official BluRay/DVD subtitles lack italics so there was nothing to transfer over | 3 years ago | |
| English | | | 3 years ago | |
| English | | Retail subs. Spellchecked, fixed dialogues, italics, and long/short lines. | 3 years ago | |
| English | | | 3 years ago | |
| English | | Minor corrections of Ghostkeeper subtitle. | 3 years ago | |
| English | | | 3 years ago | |
| English | | | 3 years ago | |
| English | | 2 FILES: SDH COLOR W / ITALICS FOR BOTH FADING ON COLOR SUBS (VOBSUB) FOR NARRATION, OFF-SCREEN, & CAPTIONS. Fixed line breaks while watching. ::THIS IS A RE-UP:: Sorry, forgot to remove the coloring on ♪ for the SDH subs, I know some folks here really hate that coloring. My bad though, here is a flawless SDH. | 3 years ago | |
| English | | | 3 years ago | |