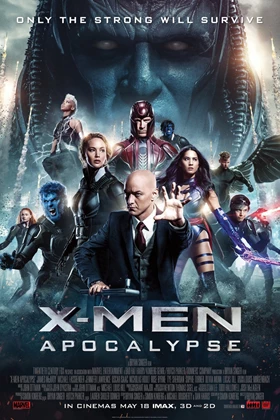 X-Men: Apocalypse Arabic Subtitles
X-Men: Apocalypse is a movie starring James McAvoy, Michael Fassbender, and Jennifer Lawrence. In the 1980s the X-Men must defeat an ancient all-powerful mutant, En Sabah Nur, who intends to thrive through bringing destruction to...
Subtitles preview
1
00:00:03,933 --> 00:00:17,128
ترجمة الدكتور علي طلال
[email protected]
2
00:01:01,328 --> 00:01:06,627
."المتحولون، ولدوا بقدرات إستثنائية"
3
00:01:06,651 --> 00:01:09,410
"مع ذلك، أنهم لا يزالوا مثل الصغار"
4
00:01:09,435 --> 00:01:13,543
Subtitles infomation
| | |
| --- | --- |
| Framerate | ... |
| Language | Arabic |
| Created By | BullSey3 |
| Author Note | ترجمه الدكتور علي طلال/ النسخ الكورية فقط تعديل التوقيت لتناسب النسخ |
| Created | 08/16/2016 06:21:00 AM |
| Updated | 2 years ago |
Raw Subtitles
1<br>00:00:03,933 --> 00:00:17,128<br><font color="#0080c0">ترجمة الدكتور علي طلال</font><br><font color="#ffff00">[email protected]</font><br><br>2<br>00:01:01,328 --> 00:01:06,627<br>."المتحولون، ولدوا بقدرات إستثنائية"<br><br>3<br>00:01:06,651 --> 00:01:09,410<br>"مع ذلك، أنهم لا يزالوا مثل الصغار"<br><br>4<br>00:01:09,435 --> 00:01:13,543<br>
More X-Men: Apocalypse Arabic Subtitles
| Language | Release name | Release note | Last Updated | Quick download |
| --- | --- | --- | --- | --- |
| Arabic | | ترجمات اللغات الأخري ملونة حتي تكون سهلة القرائه | 2 years ago | |
| Arabic | | ◘◘◘◘ ترجمة: إسلام الجـيز!وي ◘◘◘◘ | 2 years ago | |
| Arabic | | ترجمة ملونة لللغات الأخري و كاملة | 2 years ago | |
| Arabic | | ترجمة كاملة و اللغات الأخري ملونة | 2 years ago | |
| Arabic | | | 2 years ago | |
| Arabic | | ترجمة كاملة و اللغات الأخري ملونة | 2 years ago | |
| Arabic | | ترجمة كاملة و اللغات الأخري ملونة | 2 years ago | |
| Arabic | | | 2 years ago | |
| Arabic | | ترجمة دقيقة للترايلر الرائع | 2 years ago | |
| Arabic | | | 2 years ago | |
| Arabic | | اللغات الاخري ملونة لتكون سهلة في القرائه | 2 years ago | |
| Arabic | | ضبط و تعديل واعداد الترجمه : على نبـوى | 2 years ago | |
| Arabic | | اللغات الأخري ملونة | 2 years ago | |
| Arabic | | Manhal.Alyousfi ترجمة | 2 years ago | |
| Arabic | | ترجمة كاملة و اللغات الأخري ملونة | 2 years ago | |
| Arabic | | | 2 years ago | |
| Arabic | | ترجمة كاملة مع تلوين الجمل المترجمة في الفيلم | 2 years ago | |
| Arabic | | ترجمة كاملة و اللغات الأخري ملونة | 2 years ago | |
| Arabic | | اتمنى الترجمة تنال اعجابكم تقنية البرامج | http://www.tech-program.com | 2 years ago | |
| Arabic | | ترجمة كاملة و اللغات الأخري ملونة | 2 years ago | |
| Arabic | | ترجمة كاملة و اللغات الأخري ملونة | 2 years ago | |
| Arabic | | It's not mine Just sync and re-upload | 2 years ago | |
| Arabic | | | 2 years ago | |
| Arabic | | | 2 years ago | |
| Arabic | | شكرا للمترجم (إسلام الجـيز!وي) | 2 years ago | |
| Arabic | | اللغات الأخري ملونه للتمييز | 2 years ago | |
| Arabic | | ترجمة إسلام الجيزاوي (Medo311102 تعديل ) | 2 years ago | |
| Arabic | | ترجمة متوافقة مع النسخ الـ 2:23:57 | 2 years ago | |
| Arabic | | اللغات الأخري ملونة | 2 years ago | |
| Arabic | | اللغات الأخري ملونة | 2 years ago | |
| Arabic | | | 2 years ago | |
| Arabic | | | 2 years ago | |
| Arabic | | | 2 years ago | |
| Arabic | | اللغات الأخري ملونة | 2 years ago | |
| Arabic | | اللغات الأخري ملونة | 2 years ago | |
| Arabic | | ©►¦¦ ترجمة © وائل ممدوح ¦¦◄© | 2 years ago | |
| Arabic | | █▐ killer whale:ترجمة : الدكتور علي طلال تعديل █▐ | 2 years ago | |
| Arabic | | ◘◘◘◘ ترجمة: إسلام الجـيز!وي ◘◘◘◘ | 2 years ago | |
| Arabic | | ترجمة: إسلام الجـيز!وي) بدون الوان) | 2 years ago | |
| Arabic | | ترجمة متوافقة مع النسخ الـ 2:23:57 | 2 years ago | |
| Arabic | | ©►¦¦ ترجمة © وائل ممدوح ¦¦◄© | 2 years ago | |
| Arabic | | *** ترجمة *** مـحـمـد العـــزازي | 2 years ago | |
| Arabic | | █▐ الدكتور علي طلال/ نسخ البلوراي █▐ | 2 years ago | |
| Arabic | | | 2 years ago | |
| Arabic | | | 2 years ago | |
| Arabic | | اللغات الأخري ملونة | 2 years ago | |
| Arabic | | اللغات الأخري ملونة | 2 years ago | |
| Arabic | | اللغات الأخري ملونة | 2 years ago | |
| Arabic | | اللغات الأخري ملونة | 2 years ago | |
| Arabic | | ◘◘◘◘ ترجمة: إسلام الجـيز!وي ◘◘◘◘ باللون الأصفر | 2 years ago | |
| Arabic | | *** ترجمة *** مـحـمـد العـــزازي | 2 years ago | |
| Arabic | | █ إسلام الجيزاوي █ | 2 years ago | |
| Arabic | | IDX/SUB ترجمة أصلية مسحوبة من البلوراى | 2 years ago | |
| Arabic | | Manhal.Alyousfi ترجمة | 2 years ago | |
| Arabic | | █▐ الدكتور علي طلال █▐ | 2 years ago | |
| Arabic | | اللغات الاخري ملونة لتكون سهلة في القرائه | 2 years ago | |
| Arabic | | اللغات الاخري ملونة لتكون سهلة في القرائه | 2 years ago | |
| Arabic | | اللغات الاخري ملونة لتكون سهلة في القرائه | 2 years ago | |
| Arabic | | اللغات الاخري ملونة لتكون سهلة في القرائه | 2 years ago | |
| Arabic | | اللغات الاخري ملونة لتكون سهلة في القرائه | 2 years ago | |
| Arabic | | اللغات الاخري ملونة لتكون سهلة في القرائه | 2 years ago | |
| Arabic | | اللغات الاخري ملونة لتكون سهلة في القرائه | 2 years ago | |
| Arabic | | اللغات الاخري ملونة لتكون سهلة في القرائه | 2 years ago | |
| Arabic | | ███►Web إسـلام الجـيــز!وي ◄███ | 2 years ago | |
| Arabic | | █▐ الدكتور علي طلال/ النسخ الكورية █▐ | 2 years ago | |
| Arabic | | || https://www.youtube.com/watch?v=COvnHv42T-A || | 2 years ago | |
| Arabic | | مشروع المترجمين السوريين kinansyria | 2 years ago | |